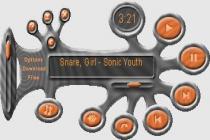 A very complete and versatile music player, able to run almost any sound format.
Zinf Audio Player in other languages:
Zinf Audio Player en castellano
Zinf Audio Player in italiano
Zinf Audio Player is a simple but powerful audio file player. It supports the most popular formats, for example MP3, OGG/Vorbis, WAV and audio CD.
It has all the audio functions of the genre. But in difference to other similar programs, Zinf Audio Player has support for playing and recording streaming, a music explorer and small download manager.
Also, so you don't lose time with complex configurations, Zinf Audio Player has a simple and intuitive interface so you can listen to your favourite music quickly. If you prefer, you can change the look by downloading distinct themes from the author's website.
Searches related to Zinf Audio Player