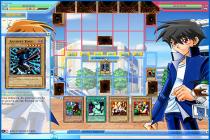 Use legendary cards in fantasy duels.
Those used to playing the entertaining and spectacular Yu Gi Oh! card game can't miss out on the chance to download this marvellous program.
Yu Gi Oh! Online lets you take part in duels with players from around the world, at all times following the official rules. Once you have installed the game and registered, you will receive a series of cards with which you have to try and defeat your rivals.
As you win duels, you will receive cards for monsters, wizards and traps, which will improve your deck until you become undefeatable. Also, Yu Gi Oh! Online has a virtual shop where you can buy any card to improve your chances of victory.
Depending on your level, you can access rooms where you can test your skills against the most powerful players, and only your cold blood and powerful hand can win all the battles in Yu Gi Oh! Online.
Can you show that you are a great player, or will you be defeated?
Searches related to Yu Gi Oh! Online