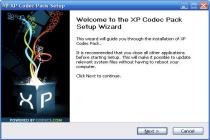 A great, free collection of multimedia codecs.
XP Codec Pack in other languages:
XP Codec Pack en castellano
XP Codec Pack em português
XP Codec Pack in italiano
XP Codec Pack w języku polskim
XP Codec Pack in het Nederlands
When playing music and videos in your PC it is always a good idea to have a good codecs pack to assure you that you can watch and listen to everything. It is very common to download a file and then not be able to watch it/listen to it for lack of a specific codec. With XP Codec Pack you can avoid this happening in future.
XP Codec Pack is a complete collection of codecs. Its authors have collected the most common codecs, and have also made sure they are the most recent versions. Installing XP Codec Pack is child's play, as you just have to run the file. The rest is done by the program itself.
The list of codecs in XP Codec Pack is huge. Here are but a few: AC3Filter 1.63, AVI Splitter 1.0.0.9, CDXA Reader 1.0.0.2, CoreAAC (AAC DirectShow Decoder) 1.2.0, CoreFlac Decoder 0.4, FFDShow MPEG-4 Video Decoder 2008.07.05, GPL MPEG-1/2 Decoder 0.1.2.0, Matroska Splitter 1.0.3.0, Media Player Classic 6.4.9.1, OggSplitter/CoreVorbis 1.1.0.79, RadLight APE Filter 1.0.0.4, RadLight MPC Filter 1.0.0.4, RadLight OFR Filter 1.0.0.4, RealMedia Splitter 1.0.1.2, RadLight TTA Filter 1.0.0.2, The Codec Detective 2.0, and VSFilter (DirectVobSub) 2.39.
Searches related to XP Codec Pack