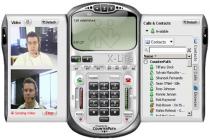 Make calls to all types of phone from your PC.
X-Lite in other languages:
X-Lite en castellano
X-Lite em português
X-Lite in italiano
X-Lite is a complete softphone that allows you to call all the phones you want, directly from your PC.
For the less initiated, a softphone is a program that simulates a conventional telephone on your PC, so can call other softphone or traditional terminals via VSP technology.
The best thing about X-Lite is that you can get it for free, so you won't spend any money to get this program, and the benefits you get are many.
X-Lite is a great program for those with a small or medium sized office and who prefer, rather than using mobile phones, to centralize your calls with this program.
Searches related to X-Lite