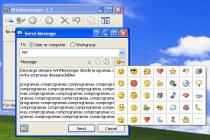 Send messages or gesture icons to other users of a LAN easily.
WinMessenger in other languages:
WinMessenger en castellano
WinMessenger em português
WinMessenger in italiano
Would you like to send messages from one PC to another on a LAN easily? WinMessenger os a simple, easy to use program that lets you send messages from one PC to another in real time without using dedicated servers.
WinMessenger works on any network protocol (TCP/IP, IPX/SPX, NetBEUI, etc.), is easy to implement and doesn't need any special IT knowledge or network configurations to make it work.
Each time you receive a new message, WinMessenger tells you with a globe that appears in the Windows taskbar. In difference to other message sending programs, WinMessenger offers you the chance to send gesture icons to your contacts, and choose among many available.
NOTE: This is the 32 bit system version, but if you want a version compatible with 64 bit systems, you can download it for free from the author's website.
Searches related to WinMessenger