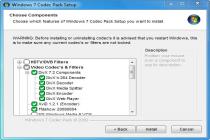 Codecs especially collected for Windows 7.
Windows 7 Codec Pack, as the name suggests, is a codec pack especially for Windows 7. Thus you can watch the majority of audio and video files you download from the Internet in any multimedia player you run in your operating system.
Windows 7 Codec Pack is also very easy to install and use, as you just have to follow the instructions of the install guide, and in a few seconds you will be ready to enjoy your favourite music and videos in your Windows 7 system. You just have to download it and enjoy it for free.
Among the codecs you can find in Windows 7 Codec Pack are DivX 7.4 Pro Video Codec, DivX h.264 Video, XviD 1.2.2 Video, AC3Filter, MP4 Source Splitter, MPEG Source Splitter, RealMedia Source Splitter, and many others.
Searches related to Windows 7 Codec Pack