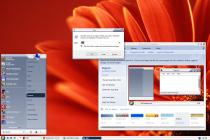 Create your own desktop themes.
WindowBlinds in other languages:
WindowBlinds en castellano
WindowBlinds em português
WindowBlinds in italiano
WindowBlinds w języku polskim
WindowBlinds is one of the most comprehensive programs for creating and changing desktop themes for Windows.
With WindowBlinds you can change the look of Windows, and you'll have your desktop full of items that you like, for example sports, movies, games, landscapes, computers, etc.
Create your own desktop themes! With WindowBlinds it's really easy, because all you have to worry about is choosing the colours and images that you like, and WindowsBlinds will do the rest.
Also, if you can't think of any subject, you can always download hundreds of free designs from the author's website.
Searches related to WindowBlinds