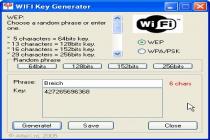 A program to generate WIFI passwords.
WIFI Key Generator in other languages:
WIFI Key Generator en castellano
WIFI Key Generator em português
WIFI Key Generator in italiano
WIFI Key Generator w języku polskim
WIFI Key Generator in het Nederlands
WIFI networks are really easy to use to connect to the Internet without cables, but also much more vulnerable than normal if you aren't protected. That's because, as you use them, anyone else can also receive the signal and use your connection.
To avoid others using your WIFI connection the best thing is to use a password so that no-one else can use it. And if you don't know how to generate a good password, don't worry, as this WIFI Key Generator will help you. You can also download it for free.
WIFI Key Generator, also called WEP Key Generator, or simply, WifiGen, is a specially designed utility to generate passwords for WIFI which are impossible to hack, so you can be sure no one is using your WIFI without your permission. Stop worrying and download WIFI Key Generator, and with one click you will have a password which you can use in the configuration of your network to make you completely protected.
Searches related to WIFI Key Generator