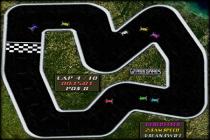 Fun and nostalgic car racing game of the old school: in 2D.
Vroom Vroom in other languages:
Vroom Vroom en castellano
Vroom Vroom em português
The biggest attraction of Vroom Vroom is that it reminds you of the first car racing games in 2D, on those circuits that were very difficult and with lots of crashes, but still loads of fun.
So, in Vroom Vroom you need to play it a lot to master the controls, as it is quite frankly difficult to race without hitting anything and accelerate without going off the track. You need a lot of skill and reflexes at 100%.
Vroom Vroom is, above all, recommended for all those nostalgics who enjoy those games that caused such a furor in the 1980s.
Searches related to Vroom Vroom