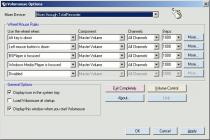 A curious free utility to control the volume of your speakers using your mouse.
Volumouse in other languages:
Volumouse en castellano
Volumouse em português
Volumouse in italiano
Volumouse is a small application that's really unique, which lets you control the volume of your speakers using the mouse wheel.
With the comfort of not having to access the Sounds control panel, Volumouse offers distinct configurations and options, to keep the wheel function 100% original.
For example, Volumouse will only raise the volume when a specific key is pressed, or when the mouse is in a specific part of the screen, or for example when your audio player is active. With Volumouse you will see how simple it is to change the volume of your music.
Searches related to Volumouse