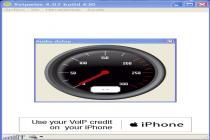 A voice client for IP, with which you can call, PC to PC, for free.
VoipWise in other languages:
VoipWise en castellano
VoipWise em português
VoipWise in italiano
VoipWise is a communications client for voice over IP (ie, instant messaging, voice over Internet) which is free and easy. This means, basically, that simply by having VoipWise installed in your PC, together with an Internet connection and a headset with microphone or similar device, you can call any other computer and talk through VoipWise, absolutely for free!
Optionally, VoipWise also offers the ability to call landlines or mobiles, at specific rates for each country or even free in some cases, or send text messages to mobiles, which are also free in some cases. A set of utilities for calling telephones, in a simple and easy way. That's VoipWise!
Searches related to VoipWise