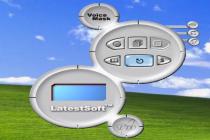 Alter and modify your voice through the microphone to be unrecognizable when you are listened to via the Internet.
VoiceMask Pro in other languages:
VoiceMask Pro en castellano
There are more and more places to use your voice via the Internet, not only in instant messaging programs or chats, but also any application that needs the use of a microphone. But often, for reasons of privacy (or even security) you don't want anyone to identify you via your voice.
There are many programs to hide your PC, and mask your IP address so you can't be located, but, what about your voice? This is the solution: VoiceMask Pro. It masks your voice by altering and deforming it so that it's absolutely impossible to identify it.
The whole VoiceMask Pro process is done in real time, and it's not only used to hide your voice but also applies a series of filters to change it even more (deeper, drier, male or female, as you like). The program also lets you add background music (in WAV format) that your receiver will hear around your voice.
Searches related to VoiceMask Pro