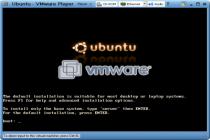 Two PCs in one!
VMware Player in other languages:
VMware Player en castellano
Thanks to VMware Player you can enjoy two PCs in the same machine, installing and running a virtual PC inside your own system. The program lets you use the created virtual machines in VMware Workstation, GSX Server or ESX Server.
What is a virtual PC? It is a completely independent system from the original, that can have its own operating system, different to the original, and with its own files, data, programs, etc. Of course, you can do any task you run normally: browse the web, share folders, watch multimedia files, exchange data with the "real" PC, etc.
VMware Player offers no obstacles to the usual efficiency of the PC, as it is the user themselves who determine the percentage of memory use they want to assign to the real PC. Also, you can always uninstall it and leavve the PC in its original state, without needing to format it.
NOTE: to download VMware Player from the author's website, you need to register first as a user.
Searches related to VMware Player