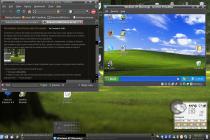 How can you emulate other operating systems via Linux?
VirtualBox in other languages:
VirtualBox em português
If you decide to use any of the increasingly popular operating system from Linux, it's likely that at some point you'll need a program that only runs on Windows. For those cases, it may be very useful to have VirtualBox.
This tool lets you install other operating systems such as Windows (almost any version) directly into Linux. To use VirtualBox you must have, in addition to the disk of the operating system you are going to install (and fully licensed), very powerful hardware, ie a new processor and enough memory and hard disk space.
Thus, once VirtualBox is installed on your PC, you can then install any Windows program on the virtual machine, and run it as normal in most cases. The best part of all is that now you can download VirtualBox from this website and use it later and forever, totally for free.
Searches related to VirtualBox