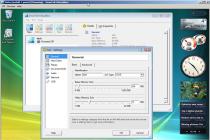 Emulate any operating system.
VirtualBox in other languages:
VirtualBox en castellano
VirtualBox em português
VirtualBox in italiano
Each day, fortunately, there is more variety when choosing operating systems. Many of them with different versions, modifications and patches. You may sometimes like to try some, but are afraid to install them and then use them in case you lose all system information. That's why they created virtual machines, and those found in VirtualBox are probably some of the best and most complete.
With VirtualBox you can emulate any current operating system, you just need the system installer, and with some extremely simple steps, you can have it in your system without compromising the safety of other data.
The advantage of virtual machines like VirtualBox is that whatever happens in the emulated operating system (data loss, critical errors ...) doesn't affect any of the data you have in your actual operating system. You can assign quotas of disk storage, RAM and video to fit your needs. You can even have multiple VMs at once, all with VirtualBox.
Searches related to VirtualBox