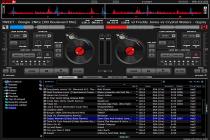 A music mixing and editing program.
Virtual DJ in other languages:
Virtual DJ en castellano
Virtual DJ em português
Virtual DJ in italiano
Virtual DJ w języku polskim
Virtual DJ in het Nederlands
Virtual DJ is a reference program in the field of digital music mixing, valid for both professional DJs and for fans at home. Using Virtual DJ you can mix and edit your favourite music quicker than usual, and what is most important: in real time and without hardly any preparation. It also has support for videoclips in DVD, DivX, MPEG, etc.
An interesting advantage of Virtual DJ is the graphic representation of the themes, which allow you to see the structure of the songs clearly and avoid unwanted surprises. Also, if you use the vinyl record controls you can "scratch" as if you were using a real mixing desk.
Do you want more? Volume control, compatibility with ID3 tags, filters, encoders ... Virtual DJ is a really complete mixer. You can also download it for free with no limits.
Searches related to Virtual DJ