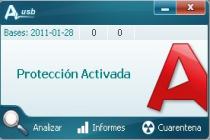 A specialized anti-virus for USBs which is really easy to use.
USB-AV Antivirus in other languages:
USB-AV Antivirus en castellano
USB-AV Antivirus em português
USB-AV Antivirus in italiano
Worried about the safety of your portable devices? That's logical, because USB devices, especially for storage, are vulnerable to contamination by viruses or other malicious programs from both connecting and disconnecting, and from PC to PC. But relax, thanks to this program, USB-AV Antivirus, you'll be sure that no malicious program sneaks into your device.
Antivirus USB-AV offers a free program focused on the search, identification and removal of malicious files that may jeopardize the integrity of the information or work against the proper functioning of the system. To do this, it performs automatic searches, in different modalities, on any file that's potentially dangerous to safety, detecting potential threats and taking prompt action before the user unknowingly runs the contaminated files.
Of note is the approach to the management of these threats offered by the USB-AV Antivirus interface, which is clean and multilingual, showing attractive and sympathetic images that calm the user once everything has been checked and the actual risk of infection has passed.
Searches related to USB-AV Antivirus