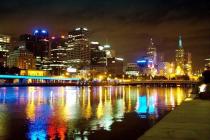 A screensaver with beautiful photos of landscapes and cities at night.
Unto the Night ScreenSaver in other languages:
Unto the Night ScreenSaver em português
Night time photos of landscapes or big cities have always offered spectacular and beautiful results in contrasting colours. It is just this type of image that is found in this collection of free screensavers, called Unto the Night.
The photos, coming from around the world, are mixed with more than 100 transition and sound effects, and there is also a very attractive background music. Of course, you can configure all these elements as you like.
Searches related to Unto the Night ScreenSaver