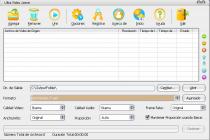 Combine various video files of different formats into just one.
Ultra Video Joiner in other languages:
Ultra Video Joiner en castellano
Ultra Video Joiner em português
Ultra Video Joiner is a video editing tool that lets you create one file from various videos, even when they are in different formats.
You can choose all the files in AVI, MPEG, VCD, SVCD, DVD or WMV formats you want (without limit) and decide on the resolution and framerate for the final video file.
But also, Ultra Video Joiner allows files of up to 2GB in size, lets you choose the exit format and the order the original files are inserted, and the format conversions are always done without losing any quality from the original. Simple and very effective.
Searches related to Ultra Video Joiner