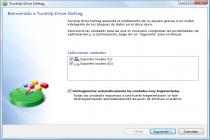 A great suite of tools for your system.
TuneUp Utilities in other languages:
TuneUp Utilities en castellano
TuneUp Utilities em português
TuneUp Utilities in italiano
TuneUp Utilities w języku polskim
TuneUp Utilities in het Nederlands
TuneUp Utilities is a great suite that optimizes the efficiency of your PC, correcting some possible problems, and which will help you configure your system according to your needs.
The program combines important PC configuration aspects, security, cleaning and maintenance; all under a modern and manageable interface. You can dlete unnecessary files from your hard drive, clean and optimize the Registry, optimize your Internet connection, recover lost files, optimize your memory and much more.
TuneUp Utilities also offers detailed information on the hardware of your PC, lets you analyze the system, and consult advice on how to improve its efficiency. TuneUp Utilities includes a program uninstaller, a Registry editor, a task administrator, a utility to recover files that have been deleted from the waste bin, and a tool that lets you change the look of your operating system.
Searches related to TuneUp Utilities