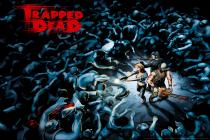 Would you survive a zombie attack?
Trapped Dead in other languages:
Trapped Dead en castellano
Trapped Dead em português
Trapped Dead in italiano
The seeds from genetically modified corn form the basis for a new virus, causing many to die. This is how it all starts in Trapped Dead, a fascinating real time strategy game, with an isometric view, in which you feel surrounded by zombies.
You find yourself in the 1980s in a small town called Hedge Hill in Missouri, and as the protagonist of Trapped Dead, you have to do everything possible to avoid becoming one of them. And the best way to do so is to make sure none of the zombies get to you.
In difference to other zombie games, in Trapped Dead your mission isn't to kill all the living dead in the city. Instead you just have to survive as long as possible. Sooner or later the zombies will get to you. With a look inspired by 1980s zombie movies, Trapped Dead is a game you shouldn't miss, just like this desktop wallpaper, in which you can see one of the living dead getting close to the screen.
This Trapped Dead wallpaper is in a size of 1280x1024 pixels. However, you can find other sizes to download for free on the author's website.
Searches related to Trapped Dead