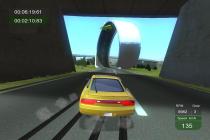 Drive and fly at full speed on impossible circuits.
Tile Racer in other languages:
Tile Racer en castellano
Drive on impossible circuits in Tile Racer! It's a game whose objective is to finish driving the circuits as soon as possible.
Tile Racer is completely free! But its graphics just as good as some paid games.
Drive at full speed on its impossible circuits, with huge concrete loops and dizzying jumps. The handling of the cars is very simple, using very realistic physics and the sensation of speed is very good.
Tile Racer includes a circuit editor, so you can easily create your own circuits and then race on them.
Searches related to Tile Racer