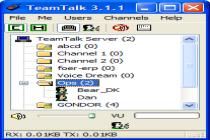 A free application to talk with your friends via the Internet or a LAN.
TeamTalk in other languages:
TeamTalk en castellano
TeamTalk em português
TeamTalk in italiano
TeamTalk is a voice conference calling application, IP-based, which lets you talk with your contacts via the Internet or a LAN. You can run TeamTalk in both client and server modes (it obliges you to have a server) and then you simply connect to the server via the client, inserting the IP address. TeamTalk offers a classic interface for this type of instant messaging program, which shows you all the users connected at that moment, and their status. It also lets you create private channels. Other interesting functions of TeamTalk are text mesaging, auto-connection, an icon in the system tray, and more. Obviously you need a microphone to be able to emit communications (but not to receive them).
Searches related to TeamTalk