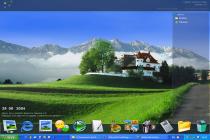 Add new functionalities to your desktop with Talisman Desktop.
Talisman Desktop in other languages:
Talisman Desktop en castellano
Talisman Desktop em português
Talisman Desktop in italiano
If you're bored of your desktop operating system, and want to change its appearance, the download this Talisman Desktop for free!
Talisman Desktop is a simple application that replaces the Windows desktop with a new, fully configurable desktop that has many new features, such as:
- Program launchers so that you can always have the applications you use most.
- Invisible buttons to take you to places that only you know.
- Photo galleries.
- Play music and video.
- Change the wallpaper.
- Modify the start menu.
In addition, Talisman Desktop lets you create a virtual world that contains games, forms, rooms, etc..
Searches related to Talisman Desktop