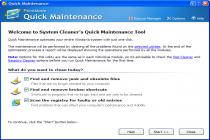 Clean your hard drive of unnecessary files.
System Cleaner in other languages:
System Cleaner en castellano
System Cleaner is a tool to recover free space in your hard drive, cleaning the logs of activities on your PC and keeping your system working perfectly.
It supports more than 100 file extensions, which lets you scan and recognize many unnecessary files in your PC. You can choose if the files are sent to the waste bin or a specific folder.
System Cleaner is made up of various main sections: Clean-up & Repair, which has two applications - Disk Cleaner, to delete unnecessary files and recover disc space, and Registry Cleaner, to optimize the system registry deleting erroneous data; Optimize & Improve contains these applications - Registry Defrag to defrag and join pieces of the disc where the system registry is, and Duplicate Files, which deletes those duplicated files in the disc; Privacy & Security protects confidential data and the traces you leave after using the PC (empties the waste bin, deletes the recently opened documents log, etc), and completely deletes data and files you don't want anyone to recover; System Control, which supervises programs that run on Windows Startup, uninstalls programs the system can't, and solves problems with Internet Explorer; and Analize & Compare, which shows you the most used areas of the drive, the changes made to the system by other programs, and the associations of the files to a specific program, letting you modify them, add new ones and delete existing ones.
Finally, there is the Rescue Manager utility, which lets you restore files, entries in the system registry and links deleted by System Cleaner to return the system to the way it was before in case any operation provokes errors.
System Cleaner is an excellent, complete program to optimize the system and drive, and lets you enjoy a faster and more efficient Windows, managing your PC without problems and with maximum efficiency.
Searches related to System Cleaner