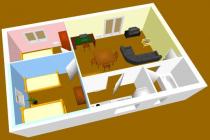 Build, paint and furnish your ideal home.
Sweet Home 3D in other languages:
Sweet Home 3D en castellano
Sweet Home 3D em português
Sweet Home 3D in italiano
Sweet Home 3D w języku polskim
Sweet Home 3D in het Nederlands
Do you want to create the house of your dreams? Then furnish it as you like? Is there enough space to fit everything in? With Sweet Home 3D you can answer these and many more questions. And it's a free program!
Sweet Home 3D is an application which will help you place the furniture onto the plan of your house via very illustrative graphics. Choose from the furniture that comes by default (each one available in various sizes) or download more from the author's website. There are hundreds to choose from!
But things don't stop there, because you can also easily paint the walls in the colours you like, and view the results in 3D from various angles. Another advantage of Sweet Home 3D is that you can download it and use it completely for free. Even its code is available for modification.
Searches related to Sweet Home 3D