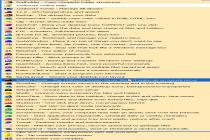 A collection of tools to cover multiple needs.
12Ghosts Complete in other languages:
12Ghosts Complete en castellano
12Ghosts Complete (also known as Super Gee Pro), is an impressive collection of hugely useful tools, that will help you work more quickly and securely with Windows, the Internet and even automate some of your daily work. The so-called "7 dwarves of Windows" will save you time, nerves, and improve your productivity.
The collection includes more than 40 helps, among which you will find: cache administrator, unattended backups, a pop-up deactivator, a document assistant, a time synchronizer, a password manager, an automatic PC shutdown, an instant messaging program, and much more. Each application in 12Ghosts Complete is individual, and all the applications are included in a control panel (called 12Ghosts Tower), that gives the program certain autonomy.
Download 12Ghosts Complete for free and you will love its endless list of great resources!
Searches related to 12Ghosts Complete