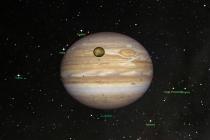 Enjoy a virtual walk through space with this fantastic Planetarium.
StarStrider in other languages:
StarStrider en castellano
Fans of science and astronomy: this is your program. StarStrider brings to your screen all the magic of our Solar System with this sensational Planetarium full of incredible detail and complete educational information.
StarStrider offers you a detailed table of the stars in the Universe (with more than one hundred thousand stars!), in which you can see all their data and distinct photos or renderings of them from different points of view, even in 3D.
You can also move as you like through the Solar System, visit planets, their satelites, constellations, other galaxies ... with the maximum detail and with hyper-realistic detail. In summary, an unmissable experience you can't do without: StarStrider.
Searches related to StarStrider