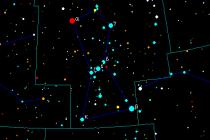 A complete astronomical chart in your hand, thanks to this tiny program.
StarCalc in other languages:
StarCalc en castellano
StarCalc em português
StarCalc is a complete guide to star maps, which lets you get an image of any place in space instantly. All the constellations, stars, eclipses and other space phenomena are available to you with StarCalc. It is, without any doubt, the quickest astronomical planetarium that exists.
All the images obtained with StarCalc can be seen from different positions (from anywhere on Earth), amplified, reduced, rotated and even printed out. And finally, the program is highly extendable. Via using various modules and plugins you can increase its functions and object catalogues to surprising limits.
Searches related to StarCalc