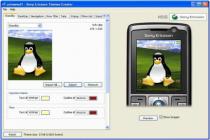 Create personalized themes for your Sony Ericsson mobile.
If your mobile phone or cell phone is a Sony Ericsson, don't lose sight of this free program that's presented here. Sony Ericsson Themes Creator is, as you can guess, to create themes for phones of this brand.
When you get down to work, Sony Ericsson Themes Creator will allow you to use any image you want for your design. Then the process of creating the theme will be developed following a series of predetermined steps.
Within the range of Sony Ericsson, the Sony Ericsson Themes Creator works seamlessly with virtually any model, such as V800, P910, P900, F500i, K500, Z500, K700, Z1010, T637, T628/T630, T610/T616, T290i, T226, T310/T312, or T300, to name a few.
Furthermore, if you have difficulty using the program, Sony Ericsson Themes Creator includes "Themes Creator Tutorial", an 85-page manual in PDF format which explains how to create a theme, and other considerations.
Searches related to Sony Ericsson Themes Creator