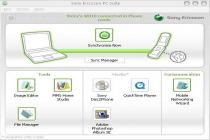 A large collection of tools to manage your Sony Ericsson from your PC.
Sony Ericsson PC Suite offers you, for free, various tools with which you can do different things with your mobile, directly from your PC. The program lets you connect your Sony Ericsson mobile in different ways: cable, infrared or Bluetooth, and once recognized by the Suite, the installation of the tools is automatic.
Among the utilities in Sony Ericsson PC Suite these are the outstanding ones:
- Sony Ericsson File Manager: a program to browse the multimedia content of your phone, allowing you to easily exchange files between it and the PC.
- Sony Ericsson Sync Station: it lets you synchronize the Outlook calendar and agenda with that of the phone.
- Sony Ericsson Mobile Networking Wizard: a simple program with which you can use your phone to browse the Internet.
In addition there are utilities for sending SMS and MMS, for editing photos and videos, for renaming files ... which all make Sony Ericsson PC Suite obligatory for all users of Sony Ericsson phones. It's also totally free, and multilingual. You're already wasting time in not downloading it!
Searches related to Sony Ericsson PC Suite