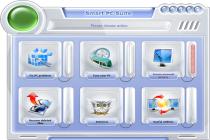 Maintain your PC and solve problems.
Smart PC Suite in other languages:
Smart PC Suite en castellano
Smart PC Suite em português
Smart PC Suite in italiano
Smart PC Suite w języku polskim
With Smart PC Suite you can keep your computer free of problems, stable and therefore efficient, in a very comfortable way.
Smart PC Suite offers several tools with which you can detect problems or viruses that your PC contains, simply delete or fix and clean your hard drive of useless files, manage and optimize system memory use, or protect your privacy, among many other options.
From its simple user interface, very intuitive and multilingual, you've access to all programs included in Smart PC Suite. Let the program guide you and scan your system, analyzing and fixing problems, and be amazed at all the infectious programs you had on your PC without knowing it. Try Smart PC Suite for free, and discover the true speed of your PC.
Searches related to Smart PC Suite