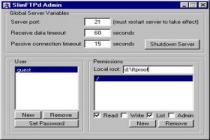 A free, compact and functional FTP server, that consumes the minimum quantity of resources.
SlimFTPd in other languages:
SlimFTPd en castellano
SlimFTPd is the ideal FTP server for those users who are looking for a server but don't want a complex life. It is very easy to use, hardly consumes system resources, and doesn't lack any essential features.
We are talking about passive file transfers, being able to pause the transfer and restart it later, configure various user profiles, define permissions for each profile, security, compatibility with any FTP client you want to use ... don't doubt that SlimFTPd will satisfy the needs of any user, from novice to expert.
This SlimFTPd server has no installation routine, so it won't create problems or waste your time. And finally, the last advantage is that it supports all standard FTP commands: ABOR, APPE, CDUP/XCUP, CWD/XCWD, DELE, HELP, LIST, MKD/XMKD, NOOP, PASS, PASV, PORT, PWD/XPWD, QUIT, REIN, RETR, RMD/XRMD, RNFR/RNTO, STAT, STOR, SYST, TYPE and USER.
Searches related to SlimFTPd