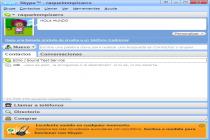 Calls, videocalls and even chat.
Skype Portable in other languages:
Skype Portable en castellano
Skype Portable em português
With Skype Portable you can make free calls to other Skype users, but this program also enables you to make video calls, and send and receive instant messages with any of your contacts, for free.
You can call any time of day and anywhere in the world. Call a landline, mobile, or even send SMS at very affordable rates with Skype.
The audio and video quality with Skype are excellent, not to mention also that it has voicemail and call forwarding. This tool is easy to use and highly configurable, and has a lot of advanced options that can be customized from the Tools-Options menu.
There's no excuse to let distance ruin a beautiful friendship.
Searches related to Skype Portable