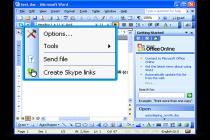 Work while you talk on Skype, and send your documents directly.
Skype Office Toolbar in other languages:
Skype Office Toolbar en castellano
Skype Office Toolbar em português
Skype Office Toolbar in italiano
Skype Office Toolbar is a free toolbar for the popular Skype phone messaging program that links its options, as well as your contacts and phone numbers, to the programs of Microsoft Office.
In practice, this means that with Skype Office Toolbar installed, while working in any Office document, this toolbar will recognize phone numbers in the document, and let you make calls or send SMS directly from Office, with a single click, or call your Skype contacts, linked or not to the current document, and maintain conferences while you work or share the document with your partner.
In addition, Skype Office Toolbar will also let you know if the author of the document is connected, and communicate with them, send Office files directly to your contacts, or convert phone numbers to links embedded in text.
Searches related to Skype Office Toolbar