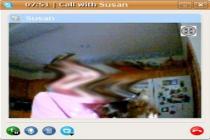 The future of telephony is free and it's called Skype.
Skype in other languages:
Skype em português
Is there anyone who hasn't heard of the famous and revolutionary Skype? Whether you know it or not, open your eyes, and read carefully what we have to tell you, and above all, don't forget to download it for free.
Skype is a program with which you can make phone calls and video calls or establish IM sessions in a totally free way, any time, and to any corner of the globe. For this to happen, both the sender and receiver must be users of Skype, and carry out the connection over the Internet.
But the most attractive and promising thing about Skype (especially considering that this is a project with a wide range of evolution), is that it gives you the possibility to contact mobile phones, and at unbeatable prices.
Now that you have some idea about what Skype is, use it now and spread the word. It's the best way, in the near future, that everyone can communicate in the most economical way.
Searches related to Skype