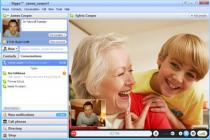 The best program for calls from your PC.
Skype in other languages:
Skype en castellano
Skype em português
Skype in italiano
If you're a regular user of IM programs, you must know there is a much more effective and professional way to keep in contact with family, friends, clients, etc. And that way has a name: Skype, a program in many languages which can be downloaded for free.
No matter where in the world you are, or where are the people you want to contact are, with Skype you can make video calls, always for free, with the help of a webcam, and hear the voice of your partners while you see them (at the same time they see you and listen to you). The only precondition for this is that both of you have the program installed on your PC. But the list of possibilities doesn't end there, since Skype also lets you make calls from PC to a landline or mobile at unbeatable prices.
As it has been evolving, Skype has incorporated technical improvements which have enabled it to debug the image quality and sound. Furthermore, it is a program with a unique behaviour, which is extremely simple in handling. Among its extra features, it must be mentioned that you have the possibility of chat sessions in the conventional manner, leaving messages on "voice mail", do call forwarding, send SMS at very low rates, manage contacts in a clean and clear manner, and so on. Enjoy it!
Searches related to Skype