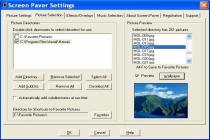 Design and create screensavers from your own images or photos.
Screen Paver in other languages:
Screen Paver en castellano
Screen Paver em português
Thanks to Screen Paver you can create a totally personalized screensavers in a few minutes, without doing more than choosing the images that will appear. Decide the order of showing and the time each one is on-screen. It's as easy as that. Also, in successive runnings of the screensavers you create it always starts with the next photo, so this Screen Paver option means that if in your screensavers you have a large number of photos, you won't always see the same photos over and again.
Searches related to Screen Paver