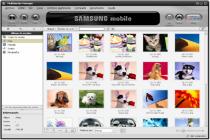 Organize the content of your Samsung J400 mobile.
Samsung PC Studio in other languages:
Samsung PC Studio en castellano
Samsung PC Studio em português
Samsung PC Studio in italiano
Samsung PC Studio w języku polskim
Samsung PC Studio is a powerful program with multimedia features, which accepts various types of photo files, movies, music and more. It allows you to browse multimedia files saved in your phone through Windows Explorer and download files or upload files from your PC to your phone.
You can also synchronize personal information data saved in the phone and the PC, write on your PC and send multimedia messages over the phone.
PC Studio allows you to organize your files into albums or playlists. It's also very easy to edit files or create new files by splitting others.
With the "similar music" option in Samsung PC Studio you only need to choose a song or performer, and it will automatically create a list of similar music from your library.
Searches related to Samsung PC Studio