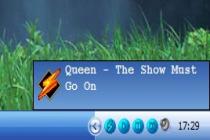 Control Winamp from the taskbar.
RndSkin in other languages:
RndSkin en castellano
RndSkin in italiano
RndSkin is a very practical complement for Winamp, in versions 2 and 5, as it places some practical icons in the taskbar.
These icons are totally personalizable, because in RndSkin you can choose which appear and which don't, and also their colours.
In addition to these features, RndSkin offers a simple to use utility with a practical interface as a complement to Winamp.
Searches related to RndSkin