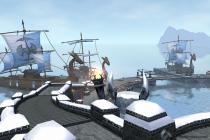 You don't fight against other players, you fight against a whole Kingdom!
Realms Online in other languages:
Realms Online en castellano
Realms Online em português
Realms Online in italiano
Realms Online w języku polskim
Realms Online offers a free MMORPG (Free to Play), which challenges you to fight against an entire kingdom, none of the old one to one fighting against others' heroes! In Realms Online you'll have to choose which kingdom you belong to, among the 3 existing: Alsius Empire, the Syrtis, forest dwellers, or the renegade Ignis Brotherhood.
From there, Realms Online is completely open, where you can explore and create your character as you like, but always fighting the enemies of your kingdom wherever you find them. Both in individual battles, PvP, and especially in the enormous battles between kingdoms that occur periodically in the worlds of Realms Online: conquests, battlegrounds, tournaments ...
So, if yours is to fight against other players, Realms Online is your game, don't hesitate! And also enjoy the game for free. Realms Online is translated into several languages, so you won't miss any details in the battles!
Searches related to Realms Online