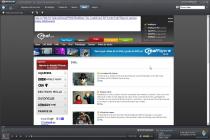 One of the most desired multimedia players.
Real Player in other languages:
Real Player en castellano
Real Player em português
Real Player in italiano
Real Player w języku polskim
Real Player in het Nederlands
Discover for yourself why Real Player has spent so long being considered as one of the most complete and powerful multimedia players on the market, at the same time as offering one of the simplest and easiest to use interfaces.
None of it is strange, as Real Player was always aimed at the user without too much technical knowledge. Thus it's small and simple for anyone to use without any problems. And in this way, thanks to Real Player, you can easily watch any multimedia file in your PC.
You can also make small technical adjustments to any videoclip thanks to the small editor incorporated into Real Player, or download multimedia content thanks to the Real Player integrated web browser. In summary, a really complete program, but one that's simple to use, and is also free. A complete gem you should have in your PC!
Searches related to Real Player