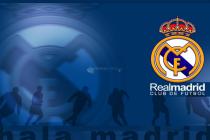 Show off that you're a fan of Real Madrid, the best club of the 20th Century.
Real Madrid is the best club of the 20th Century, a distinction conferred on them by UEFA, in honour of the huge number of titles they won: league, cup and continental competitions like the old European Cup (now the Champions League), Copa Intercontinental, etc.
For this reason, and because you are a fanatical fan of Real Madrid, because you suffer with their defeats and go crazy when they win, here is a desktop wallpaper with the colours of your team, together with the "hala Madrid" which is the offical shout of the fans, which you will hear each time you start up your PC.
This wallpaper of the Real Madrid shield is in a size of 1280x960 pixels.
Searches related to Real Madrid