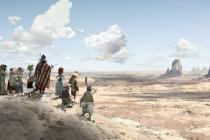 From a small terrarium to being the sherrif of a lawless town.
Rango in other languages:
Rango en castellano
Rango em português
Rango in italiano
Born in a terrarium, Rango is a small chameleon who wants to be a hero. Accustomed to his life inside that terrarium, his survival comes into doubt when he travels to the huge Mojave desert.
This is the story of Rango, a fascinating cartoon movie directed by Gore Verbinski and with Johnny Deep voicing the protagonist. The journey of Rango ends in Dirt, an old western town, in which our protagonist, without really understanding how, ends up being the law.
With large doses of humour, Rango will surprise young children, and even adults. Before you see it on the big creeen, here's a small piece of Rango for your desktop, a fantastic screensaver in which you can see the protagonist of this spaghetti western adventure under a bright, cloud-filled sky.
Searches related to Rango