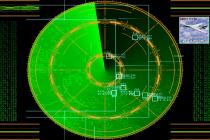 An impressive radar simulator with sound.
Radar Screensaver in other languages:
Radar Screensaver en castellano
Radar Screensaver em português
Radar Screensaver in italiano
If you like to surprise your friends, or just to please yourself with the most original complements for your PC, you probably already know the huge potential for that this website offers. In this case here is presented Radar Screensaver, an impressive screensaver inspired by radar, which has a series of animated graphics and realistic sounds that will transport you into the cockpit of an airplane, of a reactor, or a warship, etc.
Radar Screensaver is inspired by one of these radars that can detect the motion of any object that crosses its control radio, and to establish the speed or simulate the movement of it. With Radar Screensaver you can set many configuration options to your liking. In addition, as a curiosity, you can activate it to enjoy its striking beauty whenever you want from your desktop via a shortcut, without waiting for it to start automatically.
If you want to try Radar Screensaver you can download it for free with the guarantee of it being free from viruses and spyware. Activate your radar and control it all!
Searches related to Radar Screensaver