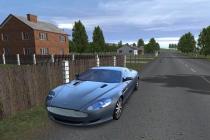 Car racing games with more than 100 cars.
Racer in other languages:
Racer en castellano
Racer in italiano
Racer is a grand touring car racing simulator, which gives you the opportunity to get behind the wheel of cars that you've always dreamed of. Choose your favourite track and enjoy the spectacular graphics, the most faithful sense of speed, and amazing vehicle physics. Racer can be played individually, or in exciting multiplayer tournaments.
In Racer almost everything is configurable via simple ASCII files. Its graphics engine is capable of processing elements such as renderings of smoke, sparks, sunlight, lines on the road, and so on. Furthermore, you can get numerous tracks and additional car models for Racer (over 100 in total) from the web.
Racer is a constantly evolving project, which isn't limited to racing 4-wheeled vehicles. You can also implement models from 2 to 8 wheels, although initially they're not included or tested in the official version of the game.The player can create their own vehicles and integrate them into their version of Racer! On the author's website you can get tools to modify the cars and circuits in Racer.
Searches related to Racer