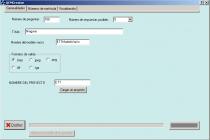 Automate the correction of your exams.
QCM Package Lite in other languages:
QCM Package Lite en castellano
QCM Lite Package contains two different programs, one that allows you to create your custom exams and a model to correct them, and another that generates a file for future corrections or students to create individualized tests.
QCM Package Lite is very easy to use, just insert the title of the exam, the number of questions and the number of possible answers. With a few clicks you'll have created your own multiple choice exam.
But with QCM Package Lite you can also create custom copies, so you can identify each student, associating their registration number and ID with it.
Searches related to QCM Package Lite