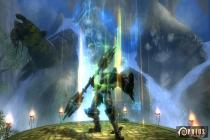 Fight against the Gods of Creation themselves in this fantasy world.
Prius Online in other languages:
Prius Online en castellano
Prius Online em português
Prius Online in italiano
Prius Online w języku polskim
If you like fantasy MMORPG, you'll no doubt feel like a child at Christmas when you discover Prius Online, a cinematic role-playing game in 3 dimensions, with high quality graphics and setting, which also offers a game system, its own story and a system of races and the most original characters, something clearly appreciated in a genre full of clones of World of Warcraft.
Prius Online offers you 4 races to choose from (Hume, Lon, Ayin, Beriah), each with its own characteristics that influence the development of your character in the world of Prius. Within each race, you can choose your character class through 7 different types, classes which, moreover, when your character reaches level 25 in turn is divided again in advanced classes. So your hero in Prius Online is exactly as you want!
As for what it offers in the world of Prius Online, it's not short of the typical chain of missions that get you gold and experience, the dungeons to do as a group (in which also you can find dungeons against the clock, and survival dungeons against hordes of enemies). And yet we still have to discuss the most original feature of Prius Online: its system of three characters (or 3c), which allows players to use their main character, the hero, and also a female companion, Anima, and huge powerful mercenaries, the Gigas, in battle. You alone will be a party in Prius Online!
Searches related to Prius Online