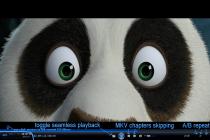 An advanced and very complete multimedia player.
PotPlayer in other languages:
PotPlayer en castellano
PotPlayer em português
PotPlayer in italiano
PotPlayer is a very complete multimedia player, full of options and possibilities. From the same creators of the popular KMPlayer, PotPlayer is basically a modernized and more advanced version of that program.
Obviously, PotPlayer lets you play almost any multimedia file in your PC: that's its function after all. But if there's anything really great about PotPlayer, without doubt it's the huge amount of configuration and playback options it offers. But only if you're really interested in them, because PotPlayer works as a player, without any other complications, and in a very simple way.
But if you decide to trawl through the distinct options offered by PotPlayer, you will discover things like the fact that PotPlayer lets you play songs in a queue of up to 1000 files, with surprising smoothness, and remembering the exact point where you left off in the last 200 songs. There are also filters, editing tools and many other tnings.
Searches related to PotPlayer