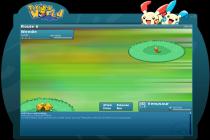 The best Pokemon game for the PC.
Pokemon World Online in other languages:
Pokemon World Online en castellano
Pokemon World Online in italiano
Pokemon World Online w języku polskim
Pokemon World Online in het Nederlands
Pokemon World Online is the answer to all fans of this Manga series, who wanted a decent game to play on your PC. And, on-line and multiplayer, what more could you want? That it has all the pokemons that have appeared before? That you can capture them and raise them yourself? That you can play games against other players?
Well keep on asking, because this is already in Pokemon World Online! And, totally free, if you were going to ask that next. Designed as if it were an RPG in the old way, with a 2D game scenario, as seen from an aerial perspective, you can travel around the world of Pokemon World Online as you want, without limitations. It could be said without exaggeration that what's offered here is a real multiplayer on-line role-playing game, set in the world of Pokemon!
So if you ever wanted to capture Pokemon by yourself, accompany Ash and friends on their adventures. Or set up a Pokemon training centre to get the strongest there. Download Pokemon World Online now, and grab everything!
Searches related to Pokemon World Online